Matt Ridgeway Goes Huge With An 835 Set – Brian Main Blasts 300
DOWNEY, Calif. – The Brunswick Invitational took the lanes for Week 6 of the first round as the teams set up to fight for the round in the final week of the round next week.  Tito's Vodka was looking to build on their 4 point lead with just 10 points left up for grabs but the standings tightened up with four teams separated by two points with just one week to go in the opening round.
In the 'A' match, Tito's Vodka was looking to continue their strategy of three and a sub that had built them a 4-point lead with DV8 hoping to close the gap before next week.  Tito's Vodka came out screaming in game one posting a 1000 game to set the tone but it was all DV8 from there as they closed the gap with a 4-1 result.  Tito's was paced by Edward Estrada's 710 series while DV8 had nice sets from Jeff Carr's 720 and Vernon Adams' 729.  These two teams will rematch next week looking to take the round but carefully watching the match next to them as the 'B' match teams will be thick in the hunt.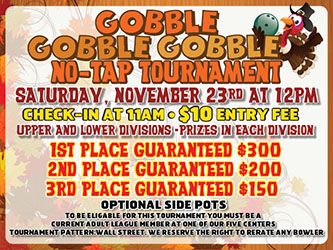 In the 'B' match, two teams that were also 4 back were looking to jump into a position to be relevant next week.  Bowlium was coming off a sweep to jump up while Forest Lanes was reeling from being swept in week 5.  Forest came out striking and took games one and two by enough to absorb the game three loss and hand on for totals ad the 4-1 decision.  Butch Jackson led Bowlium with a 730 set while Jon Diso was huge for Forest Lanes with a 289-777 series.  Forest Lanes will stay in the 'B' match just one game back and takes on Team Hu$tle who is two back going into week 7.
Team Hu$tle and Captain Morgan were sitting at 16 points both 5 back of the lead and looking to hang on to a slim chance at the round.  Team Hu$tle took the first two by a handful, but dropped game three for a 4-1 win.  Jello Gray led Hu$tle with a 715 set while Joe Jimenez paced Captain Morgan with a solid 709 series.  Team Hu$tle moves into the 'B' match next week just two back of the leaders.
Junior Amateur Tour and Don Julio Tequila were in the 7-8 match with both teams looking to bank wins but out of reach of the round.  J.A.T. took game one by just 5 and came back to take game two by 6 to hold a 11 pin lead for totals.  The last game came down to the 10th and it was Don Julio squeezing out a 9 pin win to fall 2 sticks short for totals as J.A.T. took a 4-1 win.  Will Jackson led J.A.T. with a strong 680 set while Lee Liu was huge for Don Julio posting a strong 775 set.
Kingpin Pro Shop and Threadworks matched up with 13-12 records in the 9-10 matchup.  Kingpin took game one but Threadworks came back to squeak out a 1-pin win in game two.  Game three went to Kingpin and with totals they banked a 4-1 win.  Arnold Cheesman led Threadworks with a solid 747 set while Mikey Villarreal again was strong for Kingpin with a 722 series.
3 Olives Vodka and Saddleback Lanes battled in the 11-12 matchup. 3 Olives took a 4-1 result, hanging on to totals despite dropping game two by 97.  Jonathan Gale paced 3 Olives with a 670 set while Saddleback Lanes was paced by Alex Abieras' 663 set.
Bowling Guys and US Foods were looking to get back over the .500 mark.  US Foods came out strong and took games one and two with plenty to cover their game 3 loss for the 4-1 win.  Antonio Palangio came up big for Bowling Guys with a 703 set while JT Diso struck his way to 734 to lead US Foods.
Cal Bowl and Professional Approach were matched up in the 15-16 match looking to get back on track in the round.  Professional Approach took game one by 159 sticks but it was all Cal Bowl from there as the lit them up the last two games to take totals and the 4-1 win.  Super-sub Brient Killings led Professional Approach with a 692 set while Ramon Torres was huge for Cal Bowl with a strong 776 series.
Century 21-PEAK, Buddy's Bowling Supply, Linders Insuarnce and Keystone Lanes rounded out Monday's action.  Century 21-PEAK were the victims of some spectacular bowling by Buddy's Bowling Supply who went 5-0 with some nice bowling including a 751 set by Buddy Lucas and a league-leading 276-280-279-835 series by Matt Ridgeway. Linders Insurance took 4 from Keystone Lanes on the strength of Michael Barnett's 717 series while Keystone was paced by Bill Heffern's 686 series.
Financial Advisor's sidepot went to Vernon Adams (290) for $190 with 2nd to Jello Gray (278) for $90.  Lower division sidepots went to Matt Ridgeway (276 and 280) for $42 each with the lower division SuperPot going to Matt Ridgeway (279) for $81 and the three-pot sweep.  Upper division sidepots went to Mike Cammarata (269) and Vernon Adams (290) for $50 each with 2nd to Lee Liu (266) and Jello Gray (278) for $25 each.  Upper division SuperPot went to Lee Liu (278) for $120 with 2nd to JT Diso (266) for $60.  Congratulations to Matt Ridgeway with a huge 835 series and Brian Main for his 300 game.
Come out and see the big finish to the first round next Monday night at Del Rio!