They came in a game down, but with all the opportunity in the world. Vernon Adams led his DV8 to a huge night that culminated in a berth in May's Brunswick Invitational Rolloff.
One game separated three teams coming into Week 7 Monday night, and the early news was that Brian Main was scratched from the Tito's Vodka lineup. Main could've been a difference-maker, but DV8 was determined from the git go – shooting 2678 in sweeping five games from the former top seed of the week. Adams led the team with a 731, while Main's sub, Memo Rosales shot 682.
With Tito's first loss, hope was had for Forest Lanes, which needed a sweep and for DV8 to sweep. The first game was a preview of a walkover, as Forest Lanes shot 1,013 to Team Hu$tle's 881. Fast forward to Game 3 and Bobby Hornacek finished off a stellar night, by punching home 12 strikes for a perfect 300 series and an 836 series. His team shot 2987 to force a rolloff with DV8. Jello Gray led Hu$tle with a 737 series.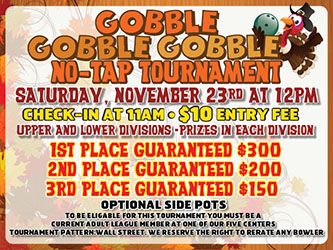 The stage was set for a roll-off. One game would determine who would have a chance at the top prize at the end of the season, and who would spend the next round hoping for a way in.
Two early splits by Jon Huff and Jeff Carr woke the team. Forest Lanes did little to apply pressure early on, as only anchor Stephanie Zavala started off with a strike.
Then DV8 went off.
In the fifth frame DV8 had jumped out to a 411-375 lead, a not-so-comfortable 36-pin lead when everything is on the line.
Sixth frame, Huff strikes again. So did Forest Lanes leadoff bowler Jon Diso. But then what happened next could have iced whatever steam Forest was about to recapture, as Tony Brunning dropped the ball into the gutter.
DV8 substitute, Matt Mosley couldn't cover his leave, but Carr and Adams weren't looking back. In fact, they both didn't miss the rest of the game, finishing for 258 and 248 respectively.
It was a 902-824 win for DV8, which will be the first team in the five-team stepladder bracket to win $16,000!
Back to the other action:
Bowlium took advantage of a sluggish start by Junior Amateur Tour (JAT); taking the first game by 118 pins. But JAT went all in the next two games, winning them by a combined 171 pins and taking four points for the night. JAT was led by David Yamauchi's 686 series; while Butch Jackson led Bowlium with a 676.
Kingpin Pro Shop got a nice 792 series from Mike Villarreal and swept Captain Morgan on 25 and 26. Both teams walked into this one with 17 wins apiece, and it was the second game that was the most competitive, as Kingpin pulled off an 847-836 win. Captain Morgan was led by Donell Carter's 663 set.
Eric Snow led 3 Olives Vodka with a 741 series in its three-points-to-two victory over US Foods. After a slow start to the round, Paul Barraco finished off strong, shooting 738. While US Foods took the first two points in this one, Snow and Ryan Cunningham shot 268 and 267 respectively to take the last point and totals by 14 pins.
On 27 and 28 we saw Leonard Ruiz and the Cal Bowl team take three of four from Don Julio Tequila behind his 751 series. Jason Carrillo was the high man for Don Julio with a 661 set. After winning the first two games handily, Cal Bowl hung on to win totals by 71 pins.
Threadworks got a 678 series from its leadoff bowler, Mike Calvillo as it easily swept Saddleback Lanes. John Vallin led the humbled cause with a 582. Game 3 saw Threadworks tumble a bit, but its 742 was still 84 pins better for the win.
Last week's super sub Matt Ridgeway made another appearance for Buddy's Bowling Supply this week, and he helped them to four points over Bowling Guys. No 800 for him this week though – he shot a 685 this week; high on the team. Their counterparts were led by Kevin Jones' 623 series. The lone point for Bowling Guys came in an eight-pin win in Game 2.
Two teams looking to finish the season on a high note saw Linders Insurance romp over Professional Approach, as Ryan Huff shot 738, Michael Barnett added 711 and Jonathan Huezo just missed 700 by seven pins. Tony Winn put forth his best effort in defending the sweep, shooting 658 in the effort.
The final match saw Century 21 – PEAK outpoint Keystone Lanes for four points. Joe Torre led the pair with a 685. Keystone Lanes did pick up its third point of the season with a 798-779 win. Jonathan Garza and Bill Heffern each shot 609 for Keystone Lanes.
Cashing in the upper-division sidepot for this sweepstakes night were Raul Rosales (270) and Jello Gray (269) for Game 1,  Jello Gray (269); Vernon Adams (279) and Jello Gray (269) Game 2, and Mike Villarreal (278) and Anthony Santos (269) Game 3.
Over to the lower division we saw Leonard Ruiz shoot 278 for Game 1, Leonard Ruiz win with a 268 in Game 2, and Steve Gurrieri with a 231 in Game 3.
The Financial Advisor's Pot saw Vernon Adams win $190 for shooting a 279. Jello Gray and Kevin Peterson each get $45 apiece for their 269 games.
We're all down with the House Round. Bring on the Short Pattern! Practice begins at 8 p.m. at Del Rio Lanes in Downey. We will see you all there!