DOWNEY, Calif. – The Brunswick Invitational took the lanes for the first week of the new round.  The league is using a new 29' 5.25ml pattern that was tour-designed for plastic ball competition.  It has three extra feet of dressing, but only 18% of the volume of the previous years.  The pattern was designed for plastic and lower-end balls were definitely the weapon of choice for many.
The 'A' match featured a rematch of last week's rolloff teams DV8 and Forest Lanes.  Forest was looking for a little redemption after their one-game loss that cost them the round.  DV8 started off with a couple key hits in the 10th to take a 802-800 decision but it was all Forest from there as the struck their way to a 4-1 win.  Jeff Carr led DV8 with a 588 set while Bobby Hornacek again was huge for Forest Lanes with a 680 set.
The 'B' match feature two teams who gave the first round a decent run but fell just short of the top.  Kingpin Pro Shop and Junior Amateur Tour were both 4 games back sitting at 22-13.  Kingpin Pro Shop came out striking strong taking game one by 78 but it was all J.A.T. from there as they blasted game two by 187 and game three by XXX for the 4-1 win.  Greg Neuer was big for Kingpin with a 614 set while Anthony Santos stroked his way to a huge 676 set to pace J.A.T.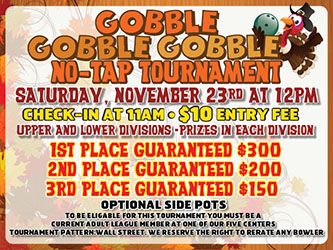 Tito's Vodka at 22 wins took on Team Hu$tle who gave the first round a strong shot.  Tito's was short-handed fielding two subs and Team Hu$tle took advantage taking games one and two, dropping a close game three and capturing totals for a 4-1 win.  Team Hu$tle was led by Jamie Carrington's solid 600 set while sub Brandon Golden paced Tito's Vodka with a 574 series.
3 Olives Vodka and Bowlium matched up in the 7-8 pairing.  Bowlium won a very low scoring first game but it was all 3 Olives from there taking games two, three, and totals for a 4-1 win.  Butch Jackson led Bowlium with a 570 set while Kevin Peterson paced 3 Olives with a 577 set.
Cal Bowl made a strong finish to end up in the middle of the pack after round one and jumped up to meet Threadworks.  Cal Bowl dropped the first two games to Threadworks by just 10 pins total, then stormed back in game three for a 93 pin win and a 3-2 result.  Carl Labayan led Cal Bowl with 631 set while sub Nacho Vega put up a 572 set for Threadworks.
Buddy's Bowling Supply took on US Foods in the battle of the top 17-18 teams.  Buddy's took game one by just 4 sticks then dropped game two by 10, setting up a winner-take-all in game three.  Buddy's put up some numbers to take game three and total pins for the 4-1 win.  Gabriel Martinez was solid for US Foods with a 649 set while Bobby Campagnale went big for Buddy's with a 667 series.
Captain Morgan and Rednil Insurance Brokers were the 13-14 matchup.  This match was all Captain Morgan as the swept their way to a 5-0 result.  Joe Jimenez led Captain Morgan with a 613 set while Jonathan Huezo was big for Rednil Insurance putting up a 627 series.
Don Julio Tequila took on Century 21-PEAK with the teams sitting at 15 and 14 wins and looking to make a move in the second round.  The match was one-sided all night at Don Julio swept past Century 21-PEAK for the 5-0 win.  Bobby LaFromboise led Century 21 with a 535 set while Raul 'Spanky' Rosales was huge for Don Julio with a nice 680 set.
Bowling Guys, Saddleback Lanes, Professional Approach and Keystone Lanes rounded out the night's action.  Bowllng Guys took a 4-1 win over Saddleback led by Antoni Palangio's 622 set.  Saddleback was paced by John Vallin's 596 series. Professional Approach took 4 wins from Keystone Lanes led by Tony Winn's 575 set, with Bill Heffern pacing Keystone with a 547.
Financial Advisor's sidepots went to Kevin Peterson (256) for $190 with 2nd to Bobby Campagnale (245) for $90.  Upper division sidepots went to bobby Hornacek (231) and Bobby Campagnale (245) for $50 each with 2nd going to Raul Rosales (225,237) for $25 each game.  Lower division sidepots went to Susan Heffern (214) and Kevin Peterson (256) for $40 each with 2nd to Tony Velasco (213) and Jason Carrillo (237) for $20 each.  Third-game upper super pot went to Anthony Santos (267) for $120 with 2nd to Bobby Campganale (255) for $60.  Lower division super pot went to Alex Abieras (248) for $90 with 2nd to Michael Barnett (224) for $45.
Come down to Del Rio Lanes on Monday nights at 8:00 and watch the best bowlers compete in the area's richest scratch league!