DOWNEY, Calif. — Raul "Spanky" Rosales shoots the lone 700 series for the night, keeping his team without a defeat in the short pattern, second round of the Brunswick Invitational.
The main event of tonight, also known as the "A" match saw Don Julio Tequila remain undefeated, thumping Captain Morgan by a whopping 466 pins. Rosales was a mad man, shooting 723, backed up by Jason Carrillo's 695. Ramiro Garcia led Captain Morgan with a 562 series. Don Julio now owns a perfect 10-0 record going into Week 3.
In the "B" matchup tonight, Junior Amateur Tour (JAT) overcame a slow start in the first game to roll all over Forest Lanes. Anthony Santos led a trio of JAT bowlers who shot at least a 644. His output: 683. Stephanie Zavala was just behind him with 682 for Forest Lanes. JAT goes to eight wins for the round, while Forest now has five.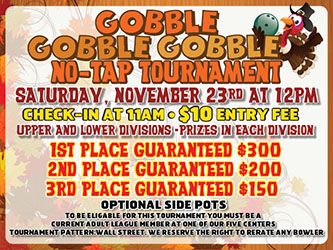 Team Hu$tle needed just two more pins to solidify a fourth win over Buddy's Bowling Supply, but a 793-792 win for nixed that. Still, Brandon Grant's 628 helped Team Hu$tle win three to go to seven wins for the round. Bobby Campagnale's 663 was enough to help Buddy's climb to six wins with its two points.
Six pins determined totals as Bowling Guys took four wins from 3 Olives Vodka to jump up to eight wins to begin the round. Antonio Palangio led the pair with a 664 for Bowling Guys; while Ryan Cunningham led 3 Olives with a 653. 3 Olives now has five wins for the round.
Cal Bowl won three games last week, and faced off with the four-win team with the lowest pin total, Professional Approach — and led by Ramon Torres' 624, swept them by a hefty 333 pins. Professional Approach was led by Aaron Hodges' 552 series. Cal Bowl jumps up to eight wins for the round.
Gabriel Martinez was on a mission to help US Foods sweep Threadworks. Mission accomplished. He led the pair with a 685 in a 321-pin win. US Foods jumps up to six wins following the week. Chris Eguilos led Threadworks with a 599. They remain with two wins.
A 234 game by Jon Huff helped spark DV8 to a clean sweep of Kingpin Pro Shop. Huff led his team with a 606 series. Greg Neuer shot a 630 in his effort to help guide Kingpin on the night. DV8 goes to 6 wins on the season with the sweep.
Saddleback Lanes rode all the momentum of Game 3 to defeat Bowlium by nine pins and take four points for the night. Alex Abieras led the team with a 627; while Billy Myers, Jr. shot 602 to pace Bowlium. A 796-752 win in the final game was enough to help Saddleback jump up to five wins for the round. Bowlium now has two.
Keystone Lanes squeaked out two points in the first two games, winning by 13 pins and then eight. But then Tito's Vodka came to life and won the third by 122 pins. Tito's was led by Memo Rosales' 573 series; while Keystone was paced by Bill Heffern's 567. Tito's climbs up to four wins for the round, while Keystone jumps to three.
Our final match of the week saw the two teams who were swept in Week 1 as Rednil Insurance Brokers took four points from Century 21 – PEAK. Michael Barnett led all bowlers with a 626 series. Century 21 tried to make it close with a 68-pin win in Game 3, led by Russell Skersick's 526.
Cashing in the upper-division sidepot was Rosales (244) and Huff (234) for Game 1, Leonard Ruiz (222) and a tie of Rosales and Anthony Santos (221) Game 2, and a tie of Zavala and Rosales (258).
Over to the lower division we saw Carrillo shoot 277 for Game 1, with Abieras shooting 211 for second, Carrillo with a 236 in Game 2, followed by Barnett's 234, and Cunningham taking the final game with a 236 in Game 3; Jello Gray shot a 228 for second place.
The Financial Advisors Pot saw JT Diso win $190 for shooting a 258. Kevin Valmonte gets $90 for his 241 games.
Two weeks down and on to Week 3 of the second round of the Brunswick Invitational! How are your favorite bowlers and/or teams doing? Come by and check them out in person. Bowling starts at 8 p.m. in Downey at beautiful Del Rio Lanes.