We're into November, and the countdown begins to the Bowler of the Year tournament! Only a hand full more winners to go to qualify. Who will make the final push to make the cut?
Making the cut as this week's Bowlers of the Week are Mexican-American Bowler's Association's Raul Ruelas and Friday Vegas' Lori Pompa.
Ruelas averages 184 in MABA, and was 109 pins over his average. He had a standout third game to solidify a nice 661 set.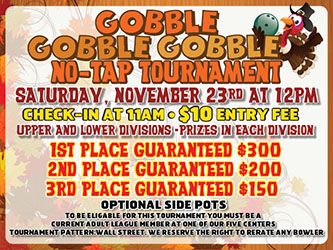 His scores were:
Joining Ruelas is Pompa, a 172 average in the new season of Friday Vegas. Looking for a spot in this league at 6 p.m. on Friday night? Call Mike right now!
If you had bowled against Lori this past week you would have seen how she just brought it!
Her scores for the night were:
Her 585 series was 69 pins over her average and helps her to earn the honors for the week.
It's worth pointing out that our Bowler of the Week from two weeks ago, Sal Nava, continues to light up the lanes. For the fourth week in a row he went well over 100 pins over his average in multiple leagues. We definitely will look out for Sal in the upcoming Bowler of the Year tournament.
So, who's next? Keep up the great work, everybody! Can't wait to see who is talked about next Monday. Also, take advantage of your three free games each day this week for League Bowler Appreciation Week! It also comes with a 20% discount in the cafe.
Thank you for choosing Del Rio Lanes!